Features of GuestGuide Management System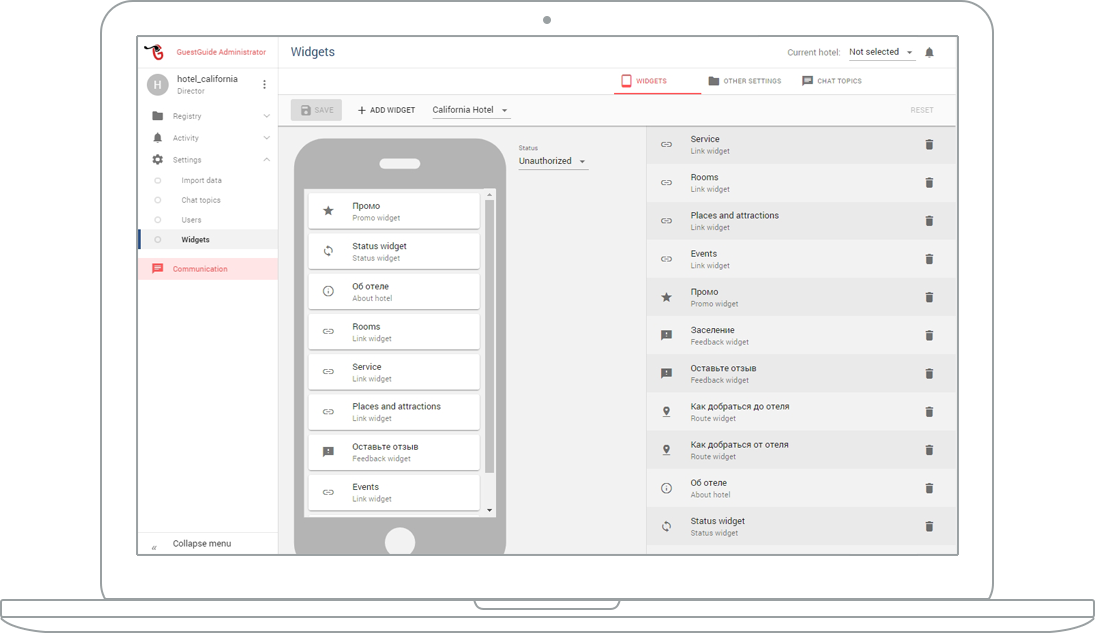 Mobile App Widgets Control
Setting of widget displaying in any sequence. You can show certain information to guests depending on their status: walk-in user, no booking, before check-in, during check-in, stay, before check-out and afteraction. So, a guest can see the hottest information for his/her status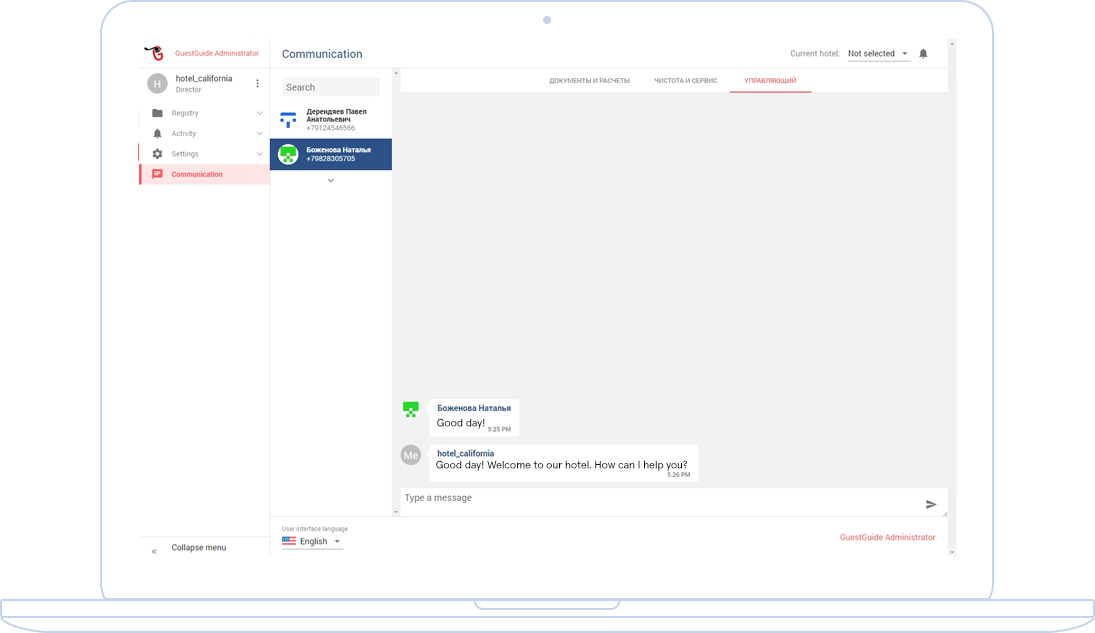 Chatroom with Guests
Promptly solve any problems of a guest related to a certain message topic. Useful classification of issues by topics and assignment of persons in charge can help you to promptly answer a question or give an advice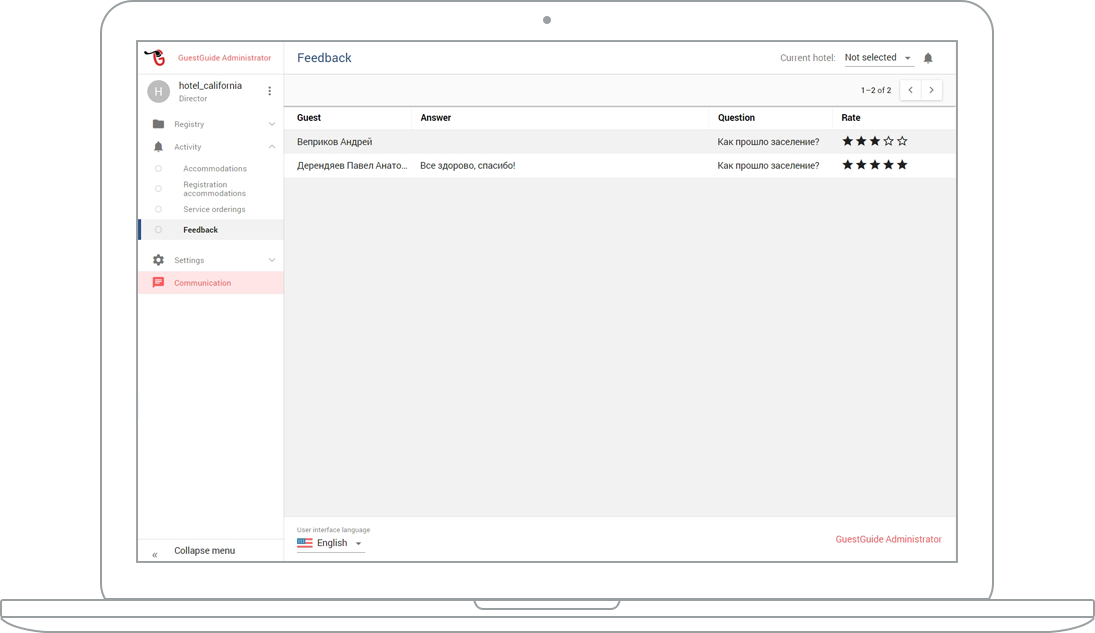 Feedback Management
Get feedbacks from guests in good time and improve your service. An option to hide feedbacks from managers is available to prevent them from deleting any feedbacks concerning themselves and in order a guest can freely leave any feedbacks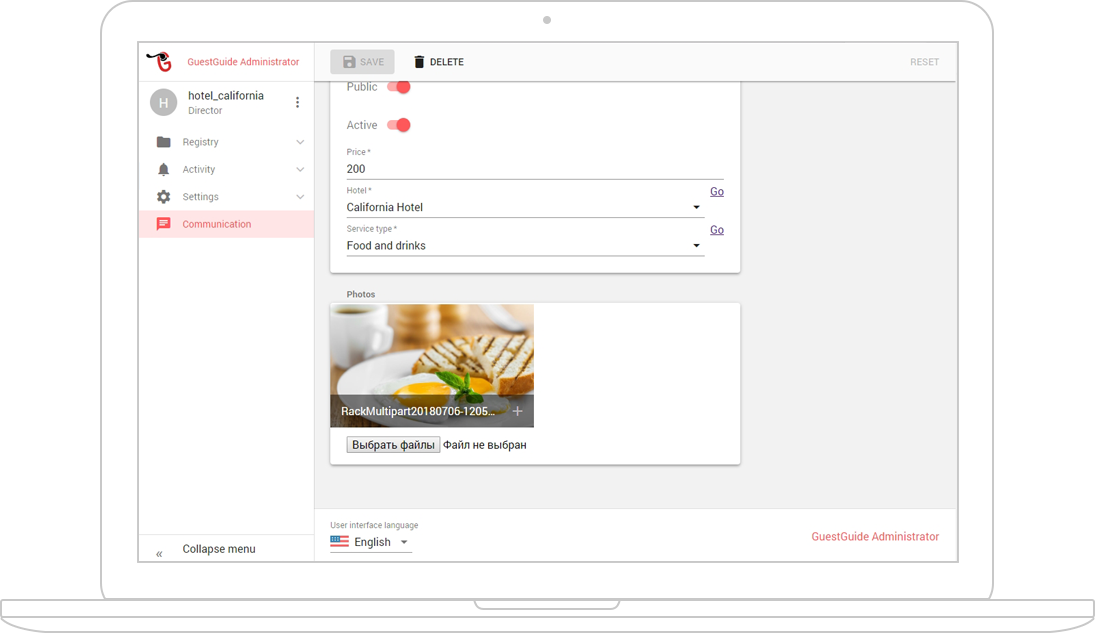 Service Management
Create service categories and their descriptions. Offer your guests a full range of services: booking a table in a restaurant, ordering a taxi and etc. Let guests choose what they are interested in and get extra earnings immediately upon booking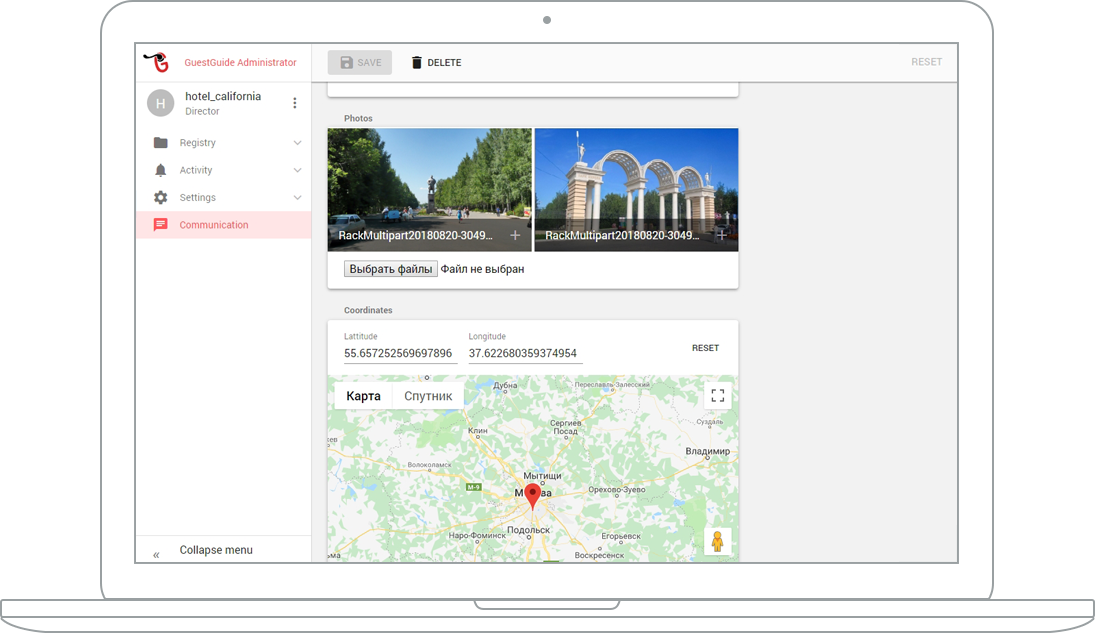 Venue and Event Management
Promptly solve any problems of a guest related to a certain message topic. Useful classification of issues by topics and assignment of persons in charge can help you to promptly answer a question or give an advice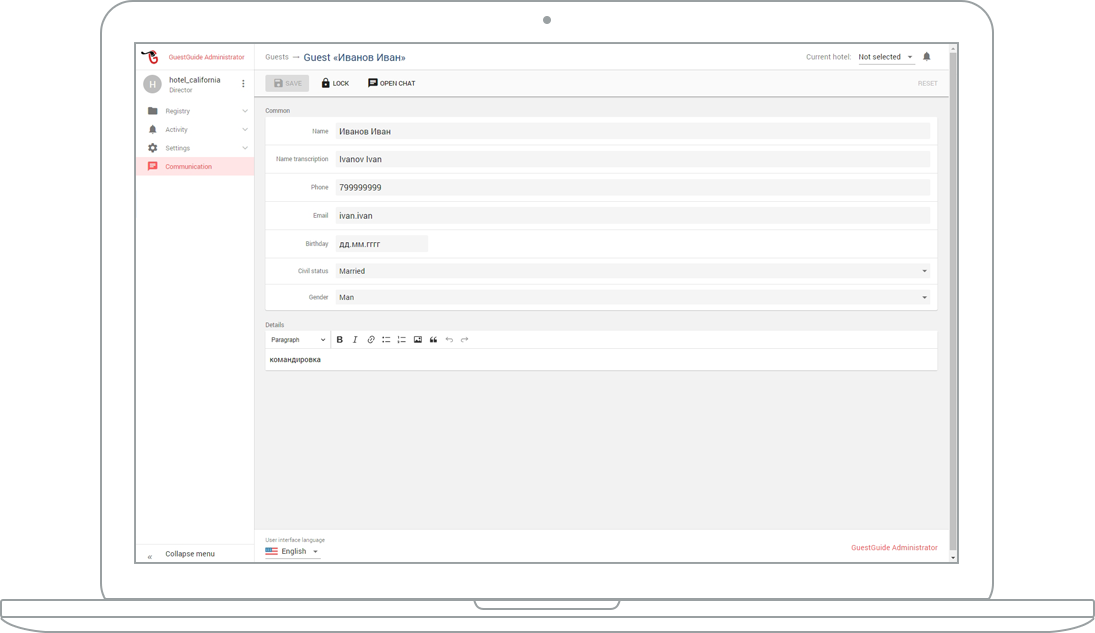 Guest Management
Create and edit information about guests and details of their stay (check-in and check-out dates)
Room Category Management
Detailed description of room categories with photos. Present some special characteristics of rooms to your guests by showing attributes of each category: air conditioner, TV set, bathrobe, slippers and etc.
GuestGuide Advantages for Hotels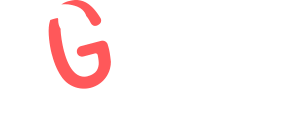 GuestGuide is a mobile app for guests supporting each stage of their checking-in process. Your hotel needs no price lists for complementary services that require continuous updating. Guests will appreciate convenience of service selecting and can refer any questions to a hotel manager using a chatroom in the app.
Effective Sales of Complementary Services
Guests order services online while staying in their rooms. The app eases hotel services use as there is no need for a guest to call or communicate with staff in person
Service Costs Decrease
Hotel staff is released from excessive request handling duties: no need to spend time for phone calls and personal communication with a guest
Increase of Direct Clients
Having installed the app once, then a guest directly books a room. A hotel doesn't pay fees to any aggregators or booking systems. A single-time client turns to a loyal one thus increasing the booking scope
Hotel Rating Upgrade
A hotel gets more positive points in the popular booking services due to an improved guest experience and his/her involvement in enjoying the hotel services
Guest Loyalty Growth
Guests obtain quick answers to their questions and their requests are handled in a prompt way. A hotel gets feedbacks on its staff and service quality and is able to solve any problems on hand when a guest is dissatisfied
Why It Is Worth Selecting GuestGuide
1
Internal Mobile App Chatroom
To interact with a guest at all stages of his/her stay
2
Broad Branding Opportunities
You get a unique app rather than a position in a general hotel list in an aggregator app
3
No Need to Purchase and Install any Equipment
For example, a server or any devices for hotel rooms. A management system is in a cloud and the app is installed on a mobile phone of a guest
4
Free Implementation
Service catalog alignment and fill-in, adding some photos
5
Technical Support
You will get support for GuestGuide
6
Multilingual App Interface
A guest will be able to use it even if he/she doesn't speak a hotel language
Cost
1 MONTH FREE
With a one-time payment for 2 months
NEXT MONTHS
You can use GuestGuide according to a selected subscription package
REVIEWS OF HOTELS WHO ARE ALREADY USING GUESTGUIDE
PROGRAM FOR A HOTEL MANAGER
By using managerial function of GuestGuide a hotel administrator or manager can quickly enter information about new services, add room photos, accept service requests, get guest feedbacks and ensure prompt response.

Thank you for your application!
Our specialist will contact you during the working day,
to answer questions